It is nice to have the media on our side and help the BWA with its message. Thank-you to Adam Hofmann for representing BWA. Read on!
Here is the link: http://www.woodworkingcanada.com/r5/showkiosk.asp?listing_id=4585894Alliance to focus on growth, member services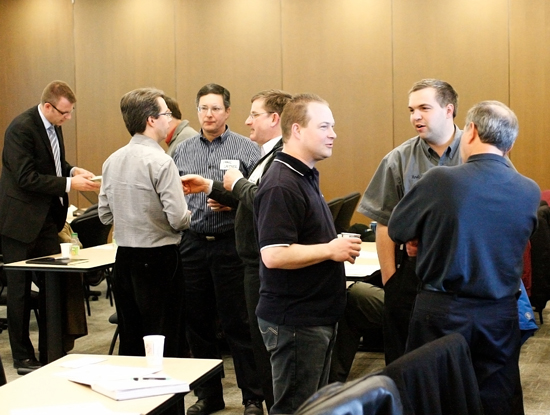 At a Bluewater Wood Alliance Networking Meeting.
The Bluewater Wood Alliance, a cluster of woodworking companies and suppliers in Midwestern Ontario, has its sights firmly set on growing the organization.
Formed two years ago, the alliance was designed to see if competitors could work together for the good of all members and to strengthen and promote economic growth and sustainability in the local wood-manufacturing sector.
The alliance was modeled after a successful clustering model used in Europe, where companies agreed to work together for the good of their industry and shore up a domestic industry besieged by foreign imports.
It's not much different here in Ontario, says alliance chair, Adam Hofmann.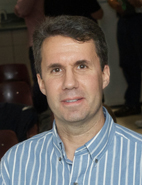 Adam Hofmann
"The alliance is our effort to support local industry, make it more competitive and hopefully take back some market share from cheap Asian imports. It's a new approach to promote economic growth and sustainability in the local wood-manufacturing sector."
The Bluewater Wood Alliance area in Midwestern Ontario is home to more than 60 companies in the advanced wood products manufacturing industries, which includes home, office and institutional furniture, solid wood flooring, veneer production, kitchen, and bath cabinets and millwork. The sector currently employs about 700 with total sales of more than $72 million.
Hofmann praised former co-managers Sepp Gmeiner and Blair Tullis – who have now handed over the day-to-day operations of the alliance to manager Mike Baker – for doing all the heavy lifting and getting things started.
They did some great work for us and now it is up to us to continue that work, Hofmann says.
"Our next efforts now will be to actively recruit new members to further grow and strengthen the organization."
The alliance will also continue to offer workshops and seminars for its members, on everything from lean manufacturing to very application specific sessions.
"Not all projects will be of interest to every member," says Hofmann, "but we plan to offer enough variety in our programs to ensure there will always be something for everyone.
"You will be able to pick and chose what works for your company."
Hofmann also says the unique aspect of the alliance, the fact that it is not a bureaucracy, but entirely member driven and dedicated to a free and open exchange of ideas, has made it the success it is.
"When we started out we were told that it will be difficult, but that if we can gain the trust and respect of the people who decide to join and try it, and if we can hold successful regular meetings, we are well on our way to succeeding," Hofmann says.
"We have accomplished all of that and we have heard from governments at the federal, provincial and municipal level that they are looking at the Bluewater Wood Alliance as a kind of model for clustering.
"It's quite difficult to start a successful cluster, it has been tried before, but we are the first to really succeed and we are quite pleased with our success. I think we can say we're coming into our own. It's very good news."
Having businesses work together also means they can pool their resources and to that end, several alliance members are getting together to display their wares at an upcoming trade show in the United Arab Emirates and they are developing a web template for members to enhance their internet presence.
"Our industry is still lagging behind when it comes to web presence," Hofmann says. "You can already use web configurators for a lot of different products and we are developing this kind of template for our members to enable them to 'plug' that into their existing websites to enhance their online presence."
www.bluewaterwoodalliance.com